Film terakhirnya dah mau tayang di sini malah baru bikin topiknya sekarang. Ga pa pa lah~
Jadi topik ini dibuat untuk membahas dua paket film terakhir Live Action adaptation dari Rurouni Kenshin atau yang lebih dikenal di Indonesia dengan Samurai-X. Film pertama sebenarnya sudah ada topiknya di sini:
viewtopic.php?f=11&t=2995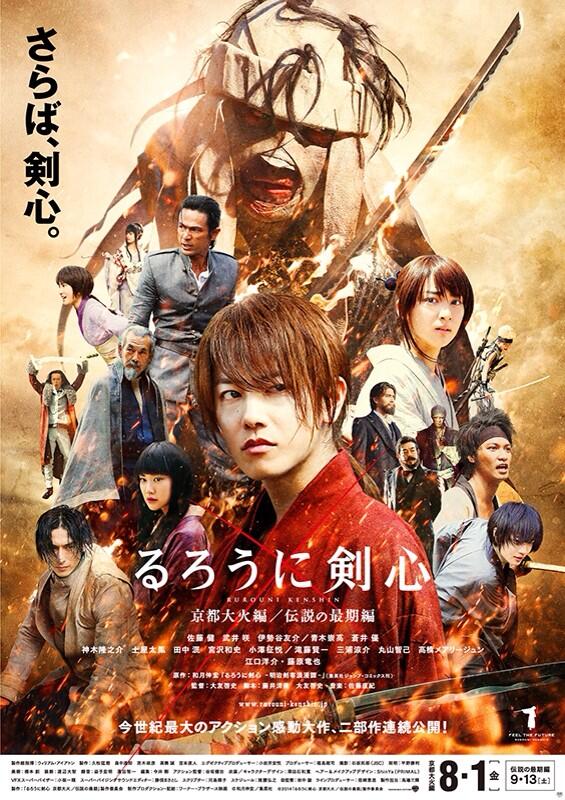 Info:
Movie name: Rurouni Kenshin: Kyoto Inferno | Rurouni Kenshin: The Legend Ends
Romaji: Rurouni Kenshin: Kyoto Taika hen | Rurouni Kenshin: Densetsu no Saigo hen
Japanese: るろうに剣心 京都大火編 | るろうに剣心 伝説の最期編
Director : Keishi Ohtomo
Studio : Studio Swan
Producer: Warner Bros.
Soundtrack: Naoki Satō
Release Date: Rurouni Kenshin Kyoto Taika hen >> August 1, 2014 | Rurouni Kenshin Densetsu no Saigo hen >> September 13, 2014
Language: Japanese
Country: Japan
Plot:
After his ordeal with Udō Jin-e, Himura Kenshin's brief period of peace is interrupted by the presence of Hajime Saito, the former captain of the Shinsengumi who assumed an alias in Tokyo's police force. With Takani Megumi's freedom at the balance, Kenshin learns that he is being enlisted in a covert operation at the city of Kyoto. There, Kenshin deals with a small army under the leadership of Hitokiri Battōsai replacement and successor, who was deemed a great enough threat to the Meiji government's stability that they attempted to burn him alive: Makoto Shishio.
Cast:
Takeru Satoh as Himura Kenshin
Emi Takei as Kamiya Kaoru
Munetaka Aoki as Sagara Sanosuke
Kaito Ōyagi as Yahiko Myojin
Tatsuya Fujiwara as Makoto Shishio
Ryunosuke Kamiki as Seta Sōjirō
Yu Aoi as Takani Megumi
Maryjun Takahashi as Komagata Yumi
Ryosuke Miura as Sawagejō Chō
Yūsuke Iseya as Shinomori Aoshi
Tao Tsuchiya as Makimachi Misao
Yōsuke Eguchi as Saitō Hajime
Min Tanaka as Kashiwazaki Nenji/Okina
Masaharu Fukuyama as Hiko Seijuro
_____________________________________
Silahkan berdiskusi tentang kedua film ini di sini.~